This guest post is brought to you by Hope Nicholson, author of The Spectacular Sisterhood of Superwomen, out now from Quirk Books. Thanks Hope!
Colour artists in comics have always been a very unique position. Widely devalued – despite the time intensive and creative essentialism of the role – colourists are unfortunately used to being ignored in favour of line artists, though lately this is starting to change with more and more colourists being featured in promos, cover credits, and interviews. In the early days of comics, very often women were given the role of colourists, a trait that has continued to this day. Irene Vartanoff, writer, editor,  and former comic colourist states of the 1970s "At Marvel, a number of colorists had real artistic chops, such as the multitalented Marie Severin, and others simply were encouraged to do coloring because they were female and they were somebody's girlfriend or relative and looking for work. I was not qualified to be a colorist; I had taken exactly one general art class in college and I am lifelong editor and writer. Nevertheless, I was offered coloring freelance and Marie taught me as much as my puny brain could absorb. I did the best I could. Marvel had expanded recently and we were chronically strapped for artists; we would not have wanted someone who could draw comics to spend time coloring them when they could be drawing more pages. The coloring we did was mostly guides that were then reinterpreted in flat paint by separators who generally went from one line to another; no delicate shading. Flashy, artistic coloring came with a higher price tag that at the period when I worked there, Marvel mostly was not willing to pay."
With some of the most prolific comic artists in the comics industry being women, here's a spotlight on some of the creators past and present who left and are leaving their mark, with words from their peers in the industry.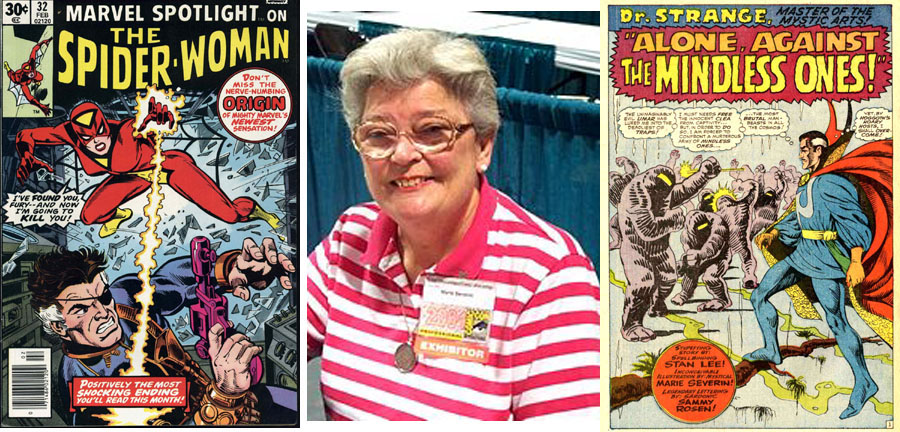 Marie Severin
Issue credits: 866
Notable Credits: Iron Man, Haunt of Fear, Tales to Astonish
In addition to being the best known colourist in the field, Marie was also a penciller for various titles, and a humour writer to boot! Starting off at EC Comics, after taking a break and working in general illustration for a few years, Marie returned to the field with working for Marvel Comics. Here, along with some writing, publicity, and marketing work, she also mentored up and coming artists and colourists and trained them in the art of comic colouring.
"Calling Marie the best woman artist in the business is an injustice. Marie was one of the best artists in the business, period." – Stan Lee
Glynis Oliver
Issue credits: 1,851
Notable credits: New Mutants, Thor, Spectacular Spider-man
Glynis is best known for her work on various Marvel titles starting in the early 1970s, starting off as Marie Severin's assistant. Working her way to her own titles, she quickly became a fixture at Marvel, doing interior pages for dozens of different titles across many genres including horror, western, and superhero, and later covers and interiors for titles such as Marvel's reprints of Elfquest, retiring from the field in 2000.
"Let's not forget Glynis Oliver…Glynis's coloring were the perfect finishing touch to the book. Everyone was top-notch on that title." Roger Stern on the 1970s X-men
Tatjana Wood
Issue credits: 1,268
Notable credits: Animal Man, Camelot 3000, Swamp Thing
For decades starting in the late 1960s, Tatjana Wood was the foremost colourist of DC comic covers, as as well as many interiors. First slated to just colour romance comics, she petitioned the editors at DC to let her work on Superman and war comics, despite their unwillingness to have a woman handle these genres. She's worked on over 1,200 comics to date and is one of the most prolific comic colourists in the industry (though notably, it is likely interiour colour artists have worked on more PAGES as Tatjana was primarily a cover artist)
"a thorough professional who knows her business…one of the easiest and yet one of the toughest people to work with" – Jack Adler, DC Vice-President of Production (1979)
Tamra Bonvillain
Issue credits: 211
Notable Credits: Angel Catbird, Rat Queens, Wayward
Best known for her vibrant hues and colour palettes, Tamra Bonvillain is a rising star as a comic colourist, working for various publishers including Image, Marvel, and DC.
"Tamra Bonvillain's sense of color, mood and form is matchless. She's a storyteller, first and foremost and serves each panel, page and project with the same level of intention and care. I'm very lucky to work with her, she's my favorite colorist in comics. Not to mention her impeccable professionalism and kick ass sense of humor!" – Johnnie Christmas, cartoonist, Angel Catbird, Sheltered
"I love Tamra Bonvillain's colors. Something about the purples gives her work a really luscious, luminous quality." – Tia Vasiliou, comiXology
"Tamra's color work enhances and focuses every page. She adds mood, texture, and clarity that takes the storytelling to the next level. Strong coloring like that makes all the difference nowadays. It's crucial." – Jim Zub, writer, Wayward
Jordie Bellaire
Issue credits: 502
Notable Credits: Redlands, Black Cloud, Autumnlands, Batman, Moon Knight
A colour artist with a wide range of skills, able to adapt to bright and cheerful atmospheres as well as the dark and gritty, Jordie is one of the most highly regarded comic colourists today, winning Eisner awards for her work. Jordie is also working on a new comic series Redlands as a writer, in addition to owning studio Red Cube (co-owned with artist Declan Shalvey) which provides mentorship and training to new artists.
"Jordie is one of the most thoughtful and creative colorists in comics. She always elevates the work of every artist she workes with and is constantly bringing innovation to the craft. I've been lucky enough to work with her at the beginning of my career and most recently on Hawkeye, and she has always been a consummate professional. Her work has been constantly evolving over the last few years so it will be amazing to watch her grow and evolve for many years to come at the top of the industry. " – Michael Walsh, artist, Hawkeye, Vision
"Jordie Bellaire is a monster. Blame it on the gripping blue blood sequence early on in Journey Into Mystery, the creepily glitchy patches of Injection, or the Unicorn food style from Pretty Deadly. By entering the coloring field from an illustration background, Bellaire avoids the blank fills and the gradients (oh god, the gradients), to give a more art-house cinematic approach a la Cronenberg, Refn, and Kubrick (a thousand times Kubrick)." – Chris Arrant, Newsarama
Thanks for the great post, Hope! Make you sure you grab a copy of this great book ASAP.
A woman's place is saving the universe.
 
Think comic books can't feature strong female protagonists? Think again! In The Spectacular Sisterhood of Superwomen you'll meet the most fascinating exemplars of the powerful, compelling, entertaining, and heroic female characters who've populated comic books from the very beginning. This spectacular sisterhood includes costumed crimebusters like Miss Fury, super-spies like Tiffany Sinn, sci-fi pioneers like Gale Allen, and even kid troublemakers like Little Lulu. With vintage art, publication details, a decade-by-decade survey of industry trends and women's roles in comics, and spotlights on iconic favorites like Wonder Woman and Ms. Marvel, The Spectacular Sisterhood of Superwomen proves that not only do strong female protagonists belong in comics, they've always been there.
Our guest contributors are the best. If you want to join their ranks, email us at submissions@keysmashblog.com.
Latest posts by Guest Contributor (see all)