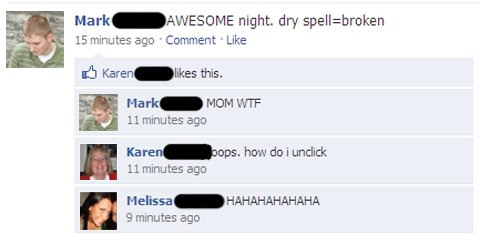 My brother is super anti-Facebook. He's super anti-a lot of things, and usually only with the justification of, "I don't like this thing and no logical argument will be acknowledged." In his heated defense of his stance he repeats himself frequently, and one thing I've heard over and over lately is a quote he read on Twitter. "Facebook is the lies you tell your family and Twitter is the truth you tell to strangers."
I've been emailing back and forth with Meg's brother about The Walking Dead for a couple of weeks now. He's not familiar with fandoms, beyond Meg, and he didn't have anyone else to discuss the show with (since Meg is being stubborn and not loving it the way we do). He said he got a Twitter for that purpose, but it was too lonely, like shouting into a void. I get that. Even with a good size group of people I regularly converse with on Twitter, it does occasionally feel like I'm talking to myself.
My 10 year LiveJournal anniversary is this year. DATING MYSELF, HOLY COW. I started it as a personal journal, but as I discovered fandom it quickly transformed into my fannish space. It was my one and only fannish identity. All of my fannish activity happened there. And it was awesome. I posted personal things, silly memes, fic, episode discussions. Conversation was easy thanks to comment threads. Getting news and updates was easy thanks to communities. Nowadays I track people so their updates get emailed because otherwise I think I would forget it even existed.
All of this got me thinking about social media platforms and how they evolve, and what their personalities are. Because they do each have a personality, don't you think? But like human personalities, they change with age.
I had a MySpace account, back in the day. I wasn't a college student, so I couldn't get a Facebook. And then Facebook opened up to the public and I rushed to sign up. LiveJournal was where I connected with my fandom friends, but Facebook became the place I kept my yearbook promises to KIT. My high school friends were scattered all over the globe, but when I logged onto Facebook it felt like we were still sitting at the lunch table, breaking our tacos up with our forks, laughing at what happened in class that day. Now when I log onto Facebook all I see are babies and internet memes that my older relatives are posting. I barely post there anymore. But I still check in, because I like to see what people are up to without actually contacting them to ask. Hashtag lazy, hashtag stalker. (Wait, hashtags aren't Facebook.)
Don't ask me what my MySpace login is.
For all that tumblr is a blogging platform, I've never used it that way. For me it's always been more of an archival service. I don't see how people can have conversations on tumblr, but I know for some it's their preferred method of interaction. Conversely my preferred method of interaction is currently Twitter, but I know plenty of people that only read their timelines and never respond or tweet anything of their own.
With Twitter rolling out Facebook-like profiles, it almost seems like it's replacing, or trying to replace, Facebook as the younger generations #1 method of keeping in touch. But does that mean Twitter will eventually go the way of Facebook, and my mom will be tweeting? (Bad example. My mom doesn't have a Facebook. My mom just recently mastered texting.)
What do you think? Do different platforms have different personalities? How have they changed? Which things do you use, and for what? Should I resurrect my MySpace page just in case social media is cyclical?
Liz has a ginger kitty named Thackery Binx who chirps like a bird and plays fetch like a dog. She reads a lot of slash, and writes a bit as well. She thinks she's a good cook, she brews beer, she's a total nerd about baseball, she reads YA fiction, she has recently rediscovered her love of pop music, she swears like a sailor.
Latest posts by Liz Keysmash (see all)