This ship, the S.S. WinterWidow, is being commandeered by Heidi. 
WinterWidow is the portmanteau for the Winter Soldier and Black Widow, a.k.a. James Buchanan "Bucky" Barnes and Natalia "Natasha" Alianovna Romanova from the Marvel Comics 'verse. (And hopefully the Marvel Cinematic Universe.)
I once saw a tumblr post tagged "Communists in love" for these two, and everything was perfect.
The movies might not go in this direction, because they have already changed Nat's background–claiming that she was born in 1984. (If anyone would have spilled that secret, wouldn't it have been Zola? He gave her real name but definitely said she was born in 1984…unless he was protecting her secret because he had something to do with her past…but I digress.)
Honestly, I just want to see Sebastian Stan and Scarlett Johansson make out.
But in the comic books.
OH GOD THE COMIC BOOKS.
Read the "Black Widow Hunt" story arc by Ed Brubaker. I'm not going to spoil it for you, but let it be known that Ed and I are in a fight. He doesn't know it, but we are.
First, some history of Marvel's "Civil War" storyline, which takes place before Black Widow Hunt. I'm not going to be too spoilery here, because the movies are partially based on this particular arc.
If you want the reading list, check out this excellent tumblr post.
Like in the movies the Winter Soldier attacks the Black Widow. And after this happens, you find out that James and Natasha go back to the Red Room in the 1950s. Comic Book Natasha (birth name Natalia) was born around 1928, raised by a dude named Ivan after she was orphaned during an attack on Stalingrad. To save Ivan's life, she took a place in the Red Room, which was a covert Soviet facility where she was biologically and psychologically enhanced. (Prolonging her life and youthful appearance, and given false memories to ensure loyalty.) In the program, she was trained by the Winter Soldier, and they became lovers.
In the Civil War story arc, some things happen involving the Red Skull *waves hands* but eventually Bucky comes to SHIELD, and Natasha and Bucky start dating again. (Until the next brainwashing misadventure happens, yes I'm looking at you, Brubaker. *shakes fist*)
And then there's this shot from Captain America & Bucky #624. (Circles added by the fuckyeahbuckynatasha.tumblr.com.)
Look at the domino mask in the middle of the bed. As the post says, "There is really only one way it could [have] survived the evening in the middle of the bed like that. It would have been the last thing anybody was wearing that night."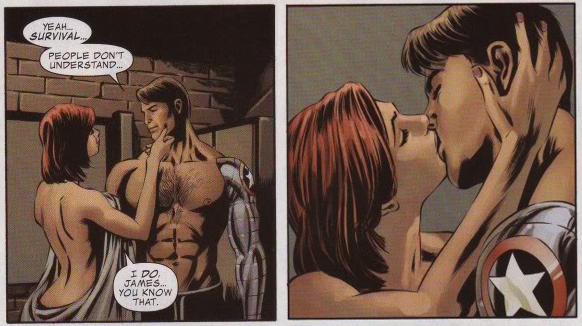 The appeal of them to me is that, well, I like broken things. I like broken people who redeem themselves. You have these two people who were both brainwashed and basically used as weapons by the "bad guys." They have killed people indiscriminately at the will of others. But even after everything, they want to redeem themselves and do right, and they're both so strong because of it.
Really, they're perfect for each other.  
I might have put a bullet in my brain to quiet the ghosts… if not for Natasha…
(Captain America & Bucky #624)
30, Philosopher (literally). Heidi knows more useless trivia than any human being rightly ought, but has never seen The Wizard of Oz. She has never met a vegetable she didn't like, but hates Jello. Overeducated and underemployed. Prone to wanderlust. Easily distracted by Karl Urban's face.
Latest posts by Heidi Keysmash (see all)