Every Friday we'll pick a theme and then five things (hence the name! We're so original!!!!!) that fit that theme. Feel free to make your own choices in the comments, or send them to us on Twitter. This week we're talking about teeny tiny tot characters that we adore.
I know this kid was barely in the movie/show, but she's so integral to the storyline. It's her conception that changes Jenna's life and drives the plot. Finding out she's pregnant is the first major moment of the story, and throughout she's dealing with the lack of maternal feelings she's having, what it means for her marriage and future, and talking to the baby. Those monologues are some of the most devastating in the whole show. Her birth is basically the end, but the finale moment pictured above is a time jump HEA that makes me weep everytime.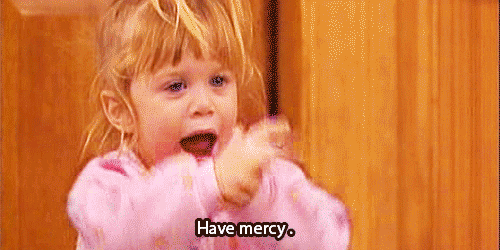 Michelle was SO FUCKING CUTE. Her interactions with her uncles (particularly Jesse) were precious. The Olsen twins were incredible in this role, and I will fight anyone who says otherwise.
Such a great recurring character in these movies. Read that Nerdist article linked under the photo. It's actually really interesting.
How could a list like this not include Maggie Simpson? I mean come on. 
I love her just as much as Sully does. But really I think she was so well done in this movie. KITTY! 
We all like to get together for a little asdfl;kj from time to time.
Latest posts by Keysmash Group Posts (see all)