Hey all! It's been awhile since I did one of these so why not bring it back with one of my favorite personal cosplays! Pinkie Pie!! Let's get started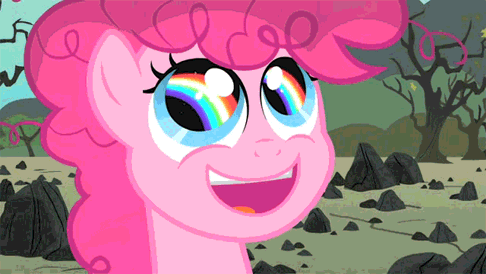 Hair
OK, Pinkie's hair is a major part of who she is. The curlier it is the happier she is. If it's straight and limp we have a Pinkie in need of a hug and candy. You can find a wig here, here, and here. (Here if you want to do a sad Pinkie.)
Outfit
Now there are A LOT of directions you can go with this but I'm gonna stick to the basics. AKA a whole lotta pink. You can do a party outfit like this, this or a combo of these: One, two, three, four, five, six. Now you can DIY a top pretty easy. Here, here and here are good starting points. As far as DIY bottoms go, just go with something you can party in because Pinkie loves to party! Here, here and here are all some options.Really so long as you slap her cutie mark on it somewhere the skies the limit.
Cutie Mark
This is a big part of Pinkie Pie. Her cutie mark looks like this:
Since a cutie mark helps identify a pony it's important to have it. You can buy it here, here, here or here.  DIY here, here, or here. I did the iron on method for mine and didn't bother sewing it down bc lazy. Just remember to have fun with it and make a design that speaks to your version of Pinkie!
Here's what mine looked like one year. (Doesn't my bestie make the cutest Liv More?!)
What would you like to see next? Let me know if you try any of my bite size cosplays and send pictures! Remember to have fun and make it your own.
Until next time. Take a chance and try cosplaying.
Mel is a fangirl through and through. She discovered her love of sewing and beauty through cosplay. She's here to help anyone who wants to start cosplaying and show them just how much fun it can be.To find her all you need to do is follow the trail of glitter and aqua hair dye.
Latest posts by Mel Keysmash (see all)